History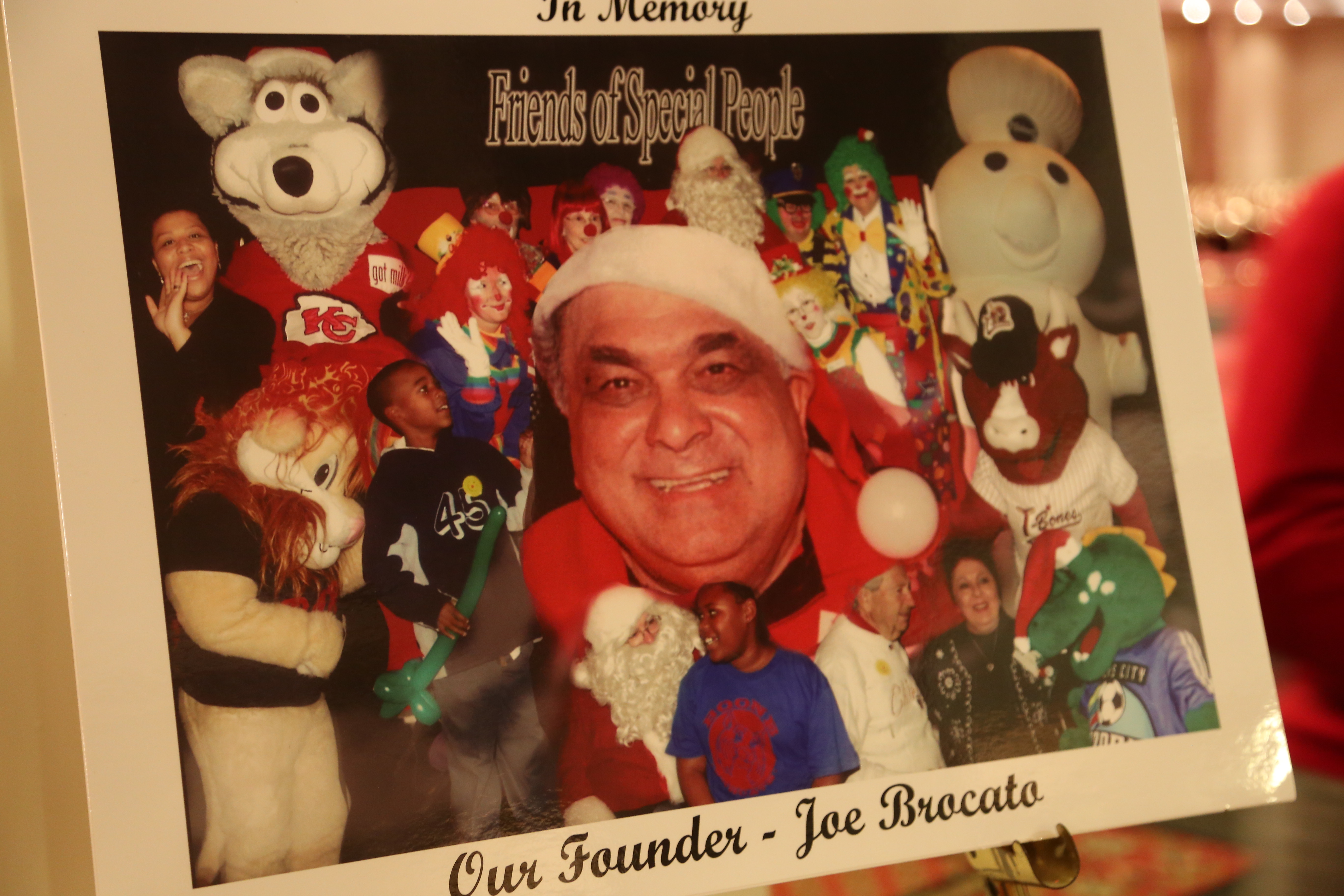 Friends of Special People began in 1990 with Joseph J. Brocato playing Santa for 25 children with mental and/or physical disabilities at Cradles and Crayons. That same year approximately 125 children at Sunshine Home were given a Christmas party by Mr. Brocato and his wife, Frances, The Fatima Choir, and some of their close friends. That party included caroling, refreshments, and some small gifts.
In 1991, the party was held at the old Plaza Inn for 285 of the mentally and physically challenged of the greater Kansas City area. This party included Santa, clowns, puppeteers, magicians, and a keyboard player. In this year, with the invention of "The Goodie Bag" each attendee received a bag including candy, fruit, stuffed animals, small toys, and games.
1992 brought a new found interest and participation by local Kansas City individuals and companies. These people helped develop Friends of Special People into what it is today. They graciously gave not only their time, but helped furnish donated goods, services, and financial backing. With this great expansion of support, Friends of Special people was able to relocate to the Barney Allis Plaza Marriott Hotel. The number of attendees continued to rise to approximately 500 which created a greater need for activities, entertainment, and gifts for all who were involved. After the great success of 1992, word began to travel fast.
In 1993, Friends of Special People saw great contributions and became incorporated as a 501-3-C at no cost to the organization. Along with this accomplishment, the Mayor's office recognized Mr. Brocato with a Certificate of Appreciation. This year, approximately 600 mentally and/or physically challenged individuals enjoyed the ever-expanding party. It was in 1993 when we saw our first full two minute segment aired on Channel 5 and even received recognition on the front page of the Kansas City Star. This defining moment allowed the Brocatos, along with all involved, know that Friends of Special people was an event to be cherished for many more years to come.

The time spanning 1994 through today, we have seen tremendous growth in the program. People have come from all over to help in any way they see possible. The truly gracious nature of the Friend of Special people allows many of our hidden talents to shine though. We have seen countless entertainers willing to add a little sparkle to this joyous occasion. Companies all over the city have donated to ensure that the now famous "Goodie Bags" are filled to the brim for eager attendees. Individuals have put in their own personal time to make sure that this event continues to be a success. Friends of Special people is a "No Cost" organization. This spans from the hotel workers and administrators to the entertainers and organization promoters. The clowns, the mascots, the magicians, the musicians, the sports teams, and the preparation committee all volunteer their time from the goodness of their hearts. These efforts truly embody the spirit of the Holidays. These people are all hard at work to make sure that over 1,200 participants have one Holiday to remember.
Our latest addition to the "Goodie Bags" is the "Wish List Gift." Each attendee gets one gift in addition to the "Goodie Bag." These additional gifts are made possible through the very generous donations from the warm hearts of Kansas Citians and all of our sponsors.
Our sponsors include the following:

Kansas City Marriott Muehlebach Downtown, Liberty Fruit, Hy-Vee Inc., Kansas City Chiefs Ambassadors, Kansas City Royals, Missouri Mavericks, Sporting Kansas City, The Sandbar in Martin City, Rockhurst High School, Cookies by Design, Cosentino Price Choppers, Sun Fresh, Hen House Grocers, Nestle, Hershey Candy, Proctor & Gamble, Colgate, Palmolive, Krusich Dental, The Kansas Dental Association, Ford Motor Co., Foundation Cosentino Charity Foundation, Applebee's International, The Sweet Foundation, Bill George Foundation, and many more Kansas City individually owned companies.
Thank you for hearing our story, we would truly appreciate any donations whether it be toys, stuffed animals, trinkets, or financial contributions.
Greatfully Yours,

All of us at Friends of Special People